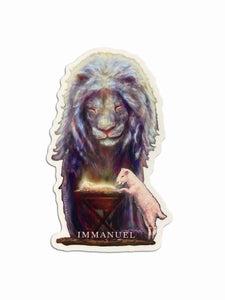 Our "Immanuel is Here" illustration is now a die cut sticker!
Place this on your laptop, back of your phone, favorite Tumbler, car, notebook or anywhere you like to place your stickers.
What an amazing gift we have in God being with us by taking on flesh. 
The tyranny of sin and death shuddered on the day the light pierced the darkness. 
Salvation came to all those who had no hope. 
The promise of redemption became a reality in our broken world. 
Hope to return to Yahweh was available for the broken and lost.
As we draw near to Christmas let's remember that in Christ we have God's greatest gift. 
The gift of reconciliation with God and the promise of eternal life.
Size: 2" 1/8 x 3" 5/8
These are water resistant. 
Glossy UV Coating
Die Cut